Mansell

and

Associates
Providing Equipment and Services for the
Molten Metal Industry
Manufacturer of the Patented
"
SuperMelt
"
Rotary Furnace
Tilting Rotary with SWIVEL Base




Rotary Furnace Articles
Home
SuperMelt Rotary
Tilting Rotary
Fat Boy Rotary
Reverb Furnaces
Baghouses
Charge Machines
Conveyors
Sowcasters
Boring Dryers
Hot Metal Transfer
Furnace Reline
Foundaries
Used Equipment
Contact
ALCOA's SuperMelt Rotary Furnace
ALCOA: Warrick Operations
<>
P
RESS RELEASE
October 2006
ALCOA Grants Contract for "SuperMelt" Rotary Furnace
Ed Mansell has received an order from Alcoa for his patented "SuperMelt" Rotary Furnace.
The furnace has a 60,000 lb. capacity and will be used at Alcoa's Warrick Operations in Newburgh, IN.
Alcoa searched worldwide for a rotary furnace to meet their requirements. They chose the "SuperMelt"
because of its versatility. In addition to the furnace being mounted on a tilting frame, it has a 360 degree
swivel base that allows charging and pouring from around the entire perimeter of the furnace to accelerate
the ability to pour to various stations without the need to reload and move equipment to the door.
This ability greatly reduces cycle time.
Alcoa will use the furnace to process coated scrap and recover aluminum from dross in addition to melting
other types of scrap aluminum. The new furnace will allow processing of dross and coated scrap on site
where currently it is shipped to a secondary processor for the metal to be extracted and shipped back for
use in Alcoa's ingot plant. This process creates waste through lost energy during the cooling, and excess
energy during reheating and transportation.
This will be the fourth "SuperMelter" and will have additional upgrades to make it even more efficient than
the typical fixed type rotary furnaces. Mansell currently has several quotes out worldwide for this type of
furnace.
Alcoa Warrick Operations is one of the largest aluminum smelting and fabricating facilities in the world
housing a 309,000 metric ton per year primary aluminum smelter and rigid packaging operation employing
more than 2,100 people, with more than 120 acres under roof and 14,000 total acres.
VIEW VIDEO

-

Click on Image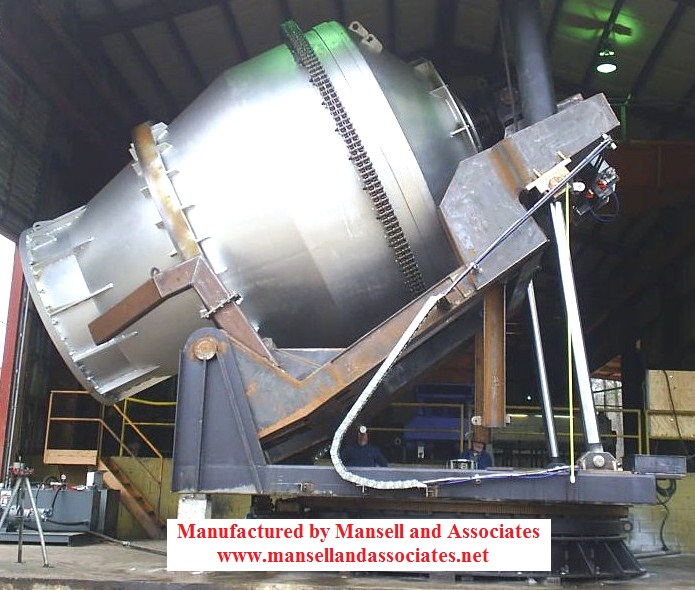 "SuperMelt" Rotary under construction for ALCOA-Warrick Operations
-

60,000 lb. aluminum capacity
ALCOA: Warrick Operations
PRESS RELEASE
March 2008
Warrick's New Rotary Furnace Taking Shape

The Ingot Department's new $7 Million furnace will begin operating in April processing dross
and coated scrap, both of which are currently sent to outside processors to recover aluminum.
Describing the furnace in terms that any of us can understand, Chuck Bargeloh, Warrick engineer
in charge of the installation, said "Some of us describe it as a massive cement mixer on steroids.
Certainly, however, this is much different. And it's unique to the Ingot Department - unlike any
other furnace we have."

The furnace's ability to rotate about a horizontal axis in addition to swiveling on a vertical axis gives
great flexibility and allows molten metal to be poured from various stations along its perimeter. It is
designed to process coated scrap created during our production process and dross, the material that
is skimmed off the surface of molten metal before it can be cast into ingots. Composed of inpurities
and oxides, dross is currently sent to outside processors to recover aluminum. With the new furnace,
however, Warrick will be able to save money, conserve significant energy and reduce environmental
effects by handling that material internally.
When dross is sent to outside processors, it must first cool. Then, after it's cooled, the secondary
processor must remelt it to extract the aluminum. They also have to heat it higher than necessary so
the metal will remain molten for its drive back to Warrick - this overheating causes additional melt
loss and uses energy. With this furnace, we'll be able to process dross while it is still hot, rather
than letting that energy be wasted.
In addition to the furnace, the project also includes a lime-injected bag house, a salt silo, a liquid oxygen
tank, and a weighing system. The Warrick County Council gave support to the project in August 2006
when they approved a tax phase-in of the assets over the coming years.
As part of the project, Bargeloh consulted with engineers at Tennessee Operations, which has its own
rotary furnace in operation. By that knowledge sharing process, Warrick will be able to have a shorter
learning curve with the new asset.
Bargeloh is also working to make sure we get the new equipment installed safely and in a quality manner.
"We're spending the time to make sure it's done right," he said, "because this is certainly much more
important than just any old cement mixer, no matter how beefed-up it looks."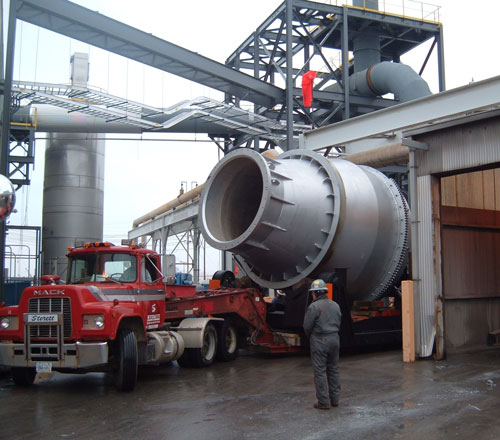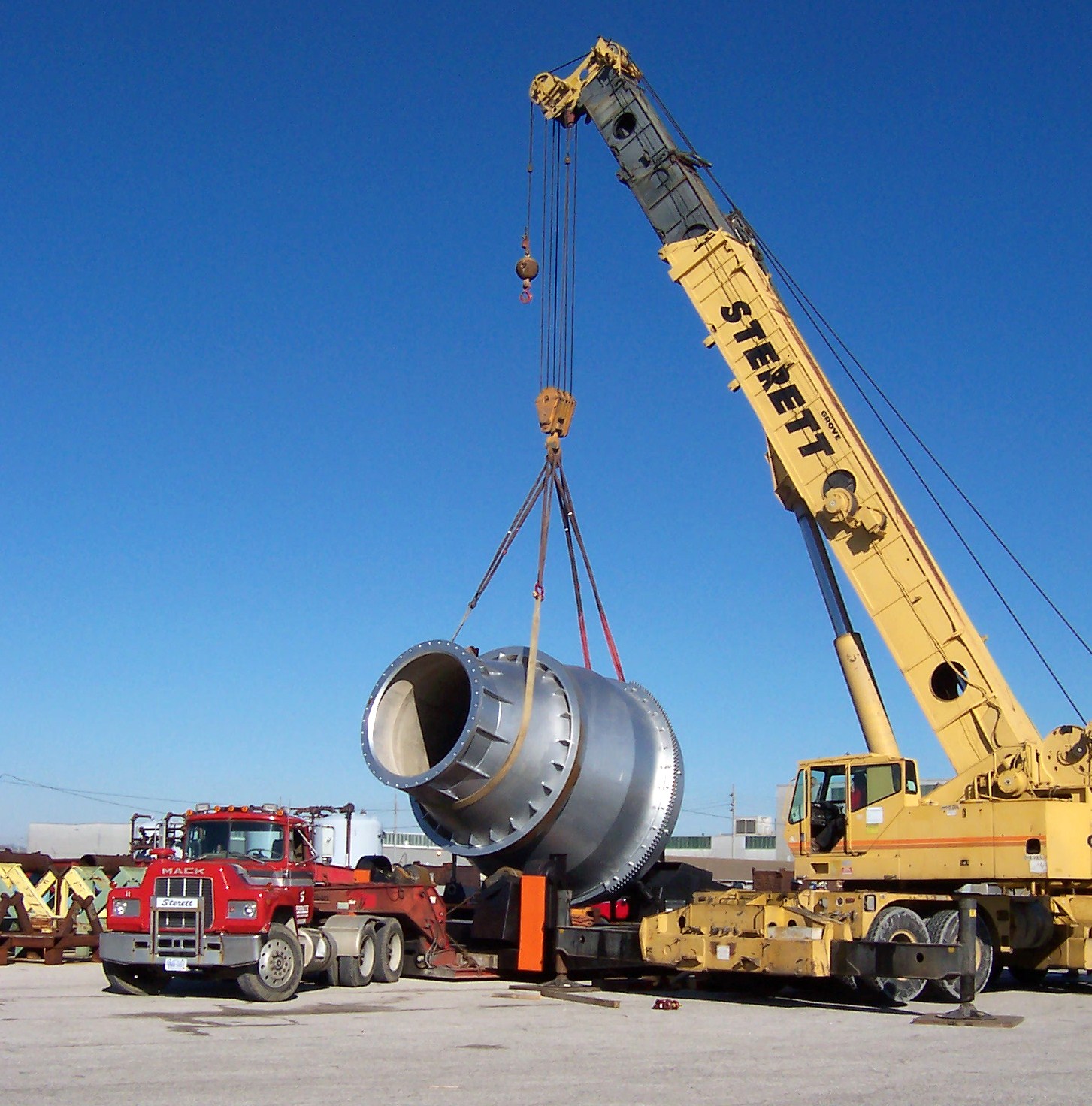 An Alcoa employee helps direct the drum for Warrick's new Rotary Furnace into the
Ingot Department for final assembly.
Rotary Furnace
"

SuperMelt

" as featured in

Light Metal Age

Magazine
<>