Our fifty
years of experience has allowed for the improvement of
the melting process to obtain the maximum productivity and metal
recovery with the lowest production cost and ease of operation.
The development of our patented
"
SuperMelt
"
Rotary furnace
system incorporates our proven design of a Rotary Sweat
Furnace
that will melt any type of
scrap and seperate the molten metal from
solids or salt.
Rotary Furnace
"SuperMelt
"
This Rotary furnace is mounted on a

tilting frame

with a

350

degree
on

SWIVEL BASE
Swivel Base

that allows the furnace to turn to pour to various locations

60,000 lb. Aluminum Capacity
around the perimeter of the base, and reduces cycle time up to 35%.
Patent No. 6676888
(See the

"SuperMelt"

Rotary page)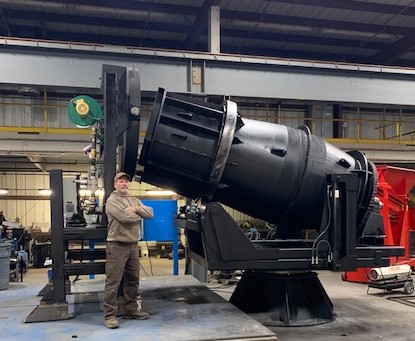 ***
We currently have a NEW "SuperMelt" Rotary Furnace
with Swivel base, Unit No. 21, completed and ready to
ship at a HUGE DISCOUNTED PRICE!
This unit has 21 cu. ft. molten material capacity, 10,000 lb.
max load capacity.
NEW "SuperMelt" Rotary Furnace on Swivel Base
complete and ready to ship
"FatBoy" Package Rotary Unit